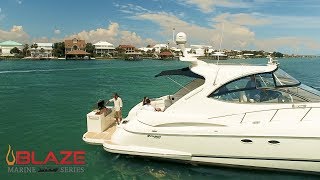 Blaze is proud to announce the new Blaze 4 Burner Marine Grade LTE Grill. Blaze introduces a commercial style grill that was designed with coastal BBQ challenges in mind. Blaze is also proud to announce that this unique grill is now rated for Multi-User Applications! The Marine Grade 4-Burner LTE is now available and approved for multi-family dwellings, apartments, hotels, and similar applications. With the heavy use of grills located in common areas, we made sure to add in an extra layer of protection for this grill – our innovative flame guard. This perforated piece sits in the drip pan of the grill, reducing the chance of a grease fire in the pan. With the frequent use of multi-user areas, this is a great extra safety feature to have. In addition to our Lifetime Warranty, Blaze will now be covering labor charges in the new and improved multi-family warranty!* This unique grill is constructed out of marine grade 316 stainless steel. The Blaze 4 Burner Marine Grade LTE showcases all the same great features owners come to expect from the Blaze LTE Series grills: cast stainless steel burners, stainless steel flame tamers, heat zone separators, double lined hood, and our unique triangular cooking grids all of which are upgraded to 316L stainless steel. Blaze knows the summer fun never stops on the coast and residents there love to grill year round, and we designed this grill with those customers in mind. Blaze offers the 4 Burner Marine Grade LTE in natural gas and propane, and is also available as a cart model. This Blaze stainless steel grill cart is specifically designed to house the Blaze 32-Inch gas and charcoal grills. The stainless steel construction ensures long-lasting durability for years of outdoor use and the four heavy duty caster wheels allow you to easily relocate the grill whenever necessary. The two stainless steel side shelves keep your BBQ tools at hand and provide a convenient work area while you cook. The Blaze grill cart also features two front doors with rounded handles to access the cabinet below the grill where you can store your propane tank, grill cover and BBQ accessories. Lifetime warranty to the original owner against defects in manufacturing and workmanship. This warranty extends to the original purchaser against manufacture defects for products purchased for ordinary single-family home use.
Grills & Outdoor Kitchens
We Can Order
See All
While every reasonable effort is made to ensure accuracy, due to continuous product improvement, standard features, options, pricing, and specifications may change at any time without notice. Please contact us for current information.