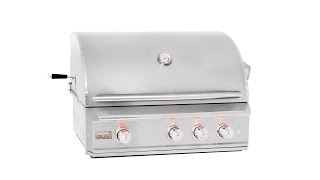 The Prelude LBM Grill is perfect for every level of griller. The durable searing rods enhance your grilling experience and allow you to sear steaks while preventing your vegetables from rolling away. The stainless steel heat zone separators allow for different cooking zones across the grilling surface. This adds to your grilling experience, creating separate zones that can be used for different styles of cooking. The flame stabilizing grid minimizes flare-ups while you enjoy your Blaze grill and the full-width drip tray makes clean up a breeze. The 304 stainless steel grill hood is double-lined to protect the outer layer from heat discoloration, keeping your Blaze grill looking shiny and new! This heavy-duty grill is built to last a lifetime and is approved for Multi-User Setting as well so that you know that no matter where you grill, your Blaze is built to last. This Blaze stainless steel grill cart is specifically designed to house the Blaze 32-Inch gas and charcoal grills. The stainless steel construction ensures long-lasting durability for years of outdoor use and the four heavy duty caster wheels allow you to easily relocate the grill whenever necessary. The two stainless steel side shelves keep your BBQ tools at hand and provide a convenient work area while you cook. The Blaze grill cart also features two front doors with rounded handles to access the cabinet below the grill where you can store your propane tank, grill cover and BBQ accessories. Lifetime warranty to the original owner against defects in manufacturing and workmanship. This warranty extends to the original purchaser against manufacture defects for products purchased for ordinary single-family home use.
Grills & Outdoor Kitchens
We Can Order
See All
While every reasonable effort is made to ensure accuracy, due to continuous product improvement, standard features, options, pricing, and specifications may change at any time without notice. Please contact us for current information.